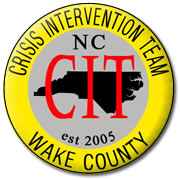 Our goal is to keep persons with serious mental illness out of the criminal justice system for misdemeanor charges. Persons with mental illness are arrested more frequently and spend longer in jail than the average citizen. Jails are not mental health institutions and are not properly equipped to handle this population. Our mission is to give arresting officers more options when dealing with persons with mental illness. We would prefer to connect persons with serious mental illness to treatment rather than have them incarcerated.
The CIT Program:
Is a partnership with mental health, consumer advocacy and law enforcement agencies.
Provides 40 hours of specialized training to sworn law enforcement officers.
Decreases the incidents of incarceration of persons with mental illness for misdemeanor charges.
Connects persons in mental health crisis to appropriate mental health services rather than the criminal justice system.
Decreases officer injury rates.
Decreases use-of-force occurrences.
Decreases consumer injury rates.
Creates an earlier opportunity to engage consumers in mental health services.
Currently in Wake County, there are more than 420 certified CIT officers in 16 local law enforcement agencies. We have provided technical assistance to Pitt, Durham, Vance, Alamance, Moore and Forsyth counties. We are committed to providing support for any county in North Carolina that expresses an interest in CIT.
Maj. Frank Brinkley serves as the Crisis Intervention Team coordinator for the NC State University Police Department. He can be reached at 919-513-4425 or email by clicking his name above.