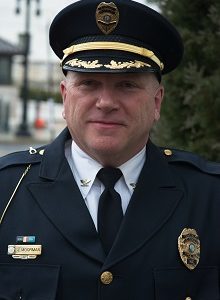 Chief Jack Moorman
Chief Moorman is a native of Gladys, Virginia.  He graduated Magna Cum Laude from Lynchburg College in 1986 with a Bachelor of Arts degree in Business Administration and Religious Studies.  He obtained his Masters of Public Administration degree from NC State University in 2001. He obtained his Doctorate of Education from NC State University in 2018.
Chief Moorman worked with the City of Raleigh Police Department from 1987 to 2006, where he served as a Patrolman, a K-9 Officer, a Community Policing Officer, a Drugs and Vice Investigator, a Patrol Sergeant, a K-9 Sergeant, a Community Policing Sergeant, a Warrant Squad Sergeant, an Administrative Lieutenant, and a District Captain.  He has been employed by the North Carolina State University Police Department since 2006, where he has been the Emergency Communication Center Director and Support Services Division Commander (Captain).  He has served as the North Carolina State University Police Chief since July1, 2011.
Chief Moorman co-chaired the Security Awareness and Compliance Committee of the University of North Carolina System Security Initiative Task Force in 2013-2014.  In 2014 and again in 2017, he was elected to the Board of Directors for the International Association of Campus Law Enforcement Administrators (IACLEA), representing the Southeastern United States.  He is also a graduate of the 267th session of the FBI National Academy in Quantico, VA.