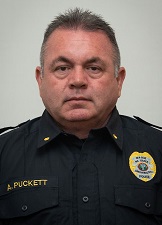 Major Anthony Puckett
PATROL DIVISION
Patrol Division – The Patrol Division is the most highly visible division of the NC State University Police Department and has the responsibility to pro-actively patrol the campus in an effort to prevent crime, solve problems, investigate crimes and vehicle accidents, make arrests pursuant to criminal behavior, provide safety escorts, serve as building liaisons, conduct safety programs and building partnerships within the campus and local community.
Our Patrol Officers utilize various methods to actively patrol the campus such as foot patrols, marked patrol vehicles, police bicycles and Segways. Our Officers are available to respond to emergencies 24 hours a day, seven days a week. All of our officers are certified as law enforcement officers by the State of North Carolina and have full arrest powers under the law.
CRIMINAL INVESTIGATION DIVISION
The Criminal Investigations Division (CID) is responsible for handling investigations based on their scope, complexity, length or location require special expertise or cannot be completed by the Patrol Officer taking the initial report. CID also provides assistance to the Patrol Division with their investigations as needed.
The following crimes are the primary responsibility of the Criminal Investigations Division:
Homicide / Suspicious Death

Bombings / Bomb Threat

Robbery

Burglary

Rape / Sexual Assault

Arson

Kidnapping

Hate / Bias Incidents

Loss of State Property greater than $5000
Additional Services
In addition to working criminal cases, CID works with members of our community and other law enforcement agencies to develop information on issues that may impact the community such as: criminal activity, dignitary visits, demonstrations, and behavioral assessments. CID Investigators work closely with the NCSU Police Department's representative to the Information Sharing and Analysis Center to ensure successful and peaceful events and to share information on cases.
Behavior Assessment Team
Members of the Criminal Investigations Division are also members of the NC State University Behavior Assessment Team, working to help mitigate the risk of targeted violence by individuals who have been reported as exhibiting threatening or concerning behavior. Please see this link to learn more about the University Behavior Assessment Team.
INFORMATION SHARING AND ANALYSIS CENTER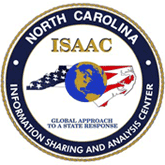 Background
Prior to 9/11, several law enforcement agencies had pieces of the puzzle that would have foretold the events that were planned but there was nothing tying the agencies and the intelligence together. Fusion centers were created to fill this void so that there would be a central depository for all homeland security intelligence and information. North Carolina officially opened its fusion center, the North Carolina Information Sharing and Analysis Center, in September 2006. The purpose of ISAAC is to serve as the focal point for the collection, analysis and dissemination of terrorism and criminal information relating to threats and attacks within North Carolina.
Mission
ISAAC enhances and facilitates the collection of information from local, state and federal resources and analyzes that information so that it will benefit homeland security and criminal interdiction programs at all levels. ISAAC serves as a support center for all North Carolina law enforcement that can submit and receive homeland security and criminal information. The center facilitates information exchange among various government agencies, works closely with the community, local law enforcement, and various task forces in the areas of homeland security, gangs, and high intensity drug related cases.
Liaison
The NCSU Police Department currently has a law enforcement representative to ISAAC. His/Her job is to act as a liaison between North Carolina's public and private colleges and universities and the center. He/She helps to facilitate the exchange of information both to the center and back out to the campuses. He/She also functions as an investigator, following up on tips and leads that are submitted to ISAAC.
CRISIS INTERVENTION TEAM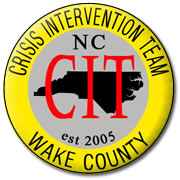 Our goal is to keep persons with serious mental illness out of the criminal justice system for misdemeanor charges. Persons with mental illness are arrested more frequently and spend longer in jail than the average citizen. Jails are not mental health institutions and are not properly equipped to handle this population. Our mission is to give arresting officers more options when dealing with persons with mental illness. We would prefer to connect persons with serious mental illness to treatment rather than have them incarcerated.
The CIT Program:
Is a partnership with mental health, consumer advocacy and law enforcement agencies.

Provides 40 hours of specialized training to sworn law enforcement officers.

Decreases the incidents of incarceration of persons with mental illness for misdemeanor charges.

Connects persons in mental health crisis to appropriate mental health services rather than the criminal justice system.

Decreases officer injury rates.

Decreases use-of-force occurrences.

Decreases consumer injury rates.

Creates an earlier opportunity to engage consumers in mental health services.
Currently in Wake County, there are more than 420 certified CIT officers in 16 local law enforcement agencies. We have provided technical assistance to Pitt, Durham, Vance, Alamance, Moore and Forsyth counties. We are committed to providing support for any county in North Carolina that expresses an interest in CIT.
Lieutenant Timothy Hammonds serves as the Crisis Intervention Team coordinator for the NC State University Police Department. He can be reached at 919-515-3812 or email by clicking his linked name.
K9 UNIT
The Police K-9 Unit supports the University community by conducting explosive security sweeps of high occupancy locations and events. The K-9 and police officer handler form a team that is trained to detect explosive materials carried by or on persons, in vehicles, in buildings as well as outdoor environments.  They often support large sporting events and also respond to bomb threats within the University system. They work with Federal, State and local agencies and provide off campus explosive detection through mutual aid requests.  The K-9 Unit answers other calls for service when not conducting training or K-9 operations.  While the K-9 Units are on patrol, many community members ask questions about the dogs which provides an excellent opportunity to engage the community in discussion.