Support Services Division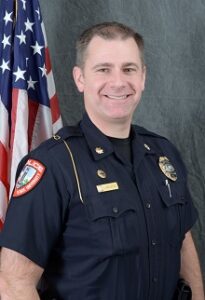 NC State University Police officers, fire marshals, and support staff are a smart addition to your gathering. If you wish to request police officers or fire marshals for your event, please complete the following application at least three weeks prior to the event. Applications can also be obtained from Sgt. Brian Wiggs at 919-513-0384.
HIRING, RECRUITING AND TRAINING
The North Carolina State University Police Department consists of 58 fully sworn Law Enforcement Officers and 10 Emergency Communications Officers. The NCSU Police Department maintains two divisions, a Field Operations Division and a Support Services Division. . 
CRIME PREVENTION AND COMMUNITY RELATIONS   
The Crime Prevention Unit acts as a liaison between the Police Department and the campus community.  Officers provide education outside the classroom to help prevent students, faculty, staff, and visitors from becoming victims of criminal activity. 
EMERGENCY COMMUNICATIONS CENTER 
The Police Department is equipped with a 24 hour Emergency Communications Center (ECC) with trained and certified Emergency Communications Officers (ECOs) that answer both 9-1-1 phone lines and non-emergency administrative phone lines.  
RECORDS AND INFORMATION TECHNOLOGY (IT) 
The Police Department has records
The Police Department currently has the following specialized units.